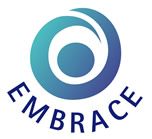 EMBRACE is an inter-church organisation, which began as a support group for refugees and people seeking asylum. We now see our main role as one of encouraging church communities to make this a more welcoming place for all people from other countries and minority-ethnic backgrounds.
It began informally in 2001 as individuals from different denominations became increasingly concerned about the difficulties facing refugees and people seeking asylum in this country. They wanted to do more than talk and were committed to finding a way of responding in a Gospel manner to the new strangers in our midst.
A focus group was formed which met with organisations such as NICEM, the Red Cross, the St Vincent de Paul Society and the Law Centre as its members tried to educate themselves about the situation. It also hosted several seminars in St Clement's retreat house in order to inform and to raise awareness of the local situation.
The next step was to contact interested people from the other Churches. Very quickly an inter-church committee was formed and from this EMBRACE was born.
The official launch of EMBRACE took place on 22nd October 2003 in the Wellington Park Hotel in Belfast. The Rev. Arlington Trotman, Secretary of the Churches Together in Britain and Ireland Commission for Racial Justice, spoke at the launch, welcoming this initiative.