'I was a stranger and you made me welcome'
Matthew 25:35
---
EMBRACE is a group of Christians working together to promote positive responses to people seeking asylum, refugees, migrant workers and people from minority ethnic backgrounds in Northern Ireland.
---
Northern Ireland is becoming richer in its diversity of culture and ethnicity as it becomes home to an increasing number of people from other countries.
EMBRACE seeks to equip the church to fulfil its call to welcome our new neighbours, by providing information, training, materials and channels for practical help. In doing this we seek to build a community which welcomes and respects diversity.
On this site you will find information relating to the situation for people seeking asylum, refugees, migrant workers and people from resident minority ethnic backgrounds within Northern Ireland. There are also links to related sites.
---
Advice, Information and Support
---
Our Spring/Summer edition of EMBRACE REFLECTIONS is now available. To receive your copy, please join our mailing list. Click here to sign up.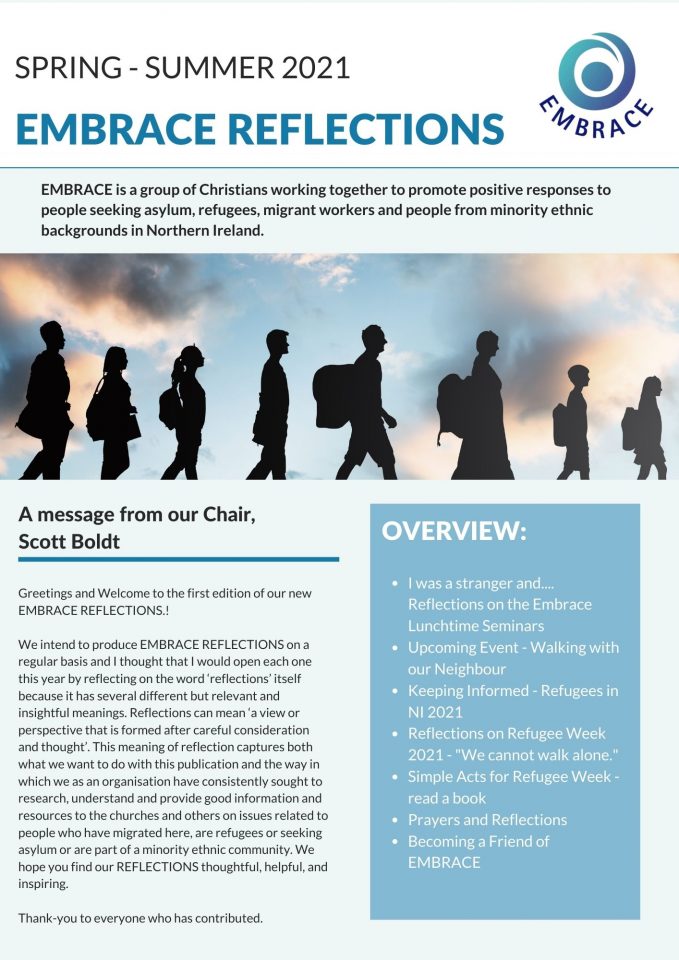 English Classes
In the past EMBRACE listed English language classes on this site. We are delighted that there is now a dedicated ESOLNI multilingual regional website for people looking for a suitable course. Click here for additional information and a list of courses. It is important that church classes are on the new site. So please get in touch with regional co-ordinator, Ligia Parizzi, (LParizzi@belfastmet.ac.uk) to set up a member profile
EU Settlement Scheme
The UK's decision to leave the EU means all EU, EEA or Swiss citizens living in Northern Ireland must now apply for 'settled' or 'pre-settled' status in order to protect their right to continue to live and work in the UK. The deadline for applying is June 30, 2021. Click here for more information and where to access advice. (Click here for pdf version).
---
We have taken reasonable measures to check the accuracy of the information on this site and trust that it is useful. However, it is intended as a general summary of information and should not take the place of written law or regulations.
The inclusion of links to organisations in any section is not an endorsement of these groups. We cannot take responsibility for information contained on other websites.