Keep up to date with our latest events and resources here.
---
EMBRACE NI Conference: November 2018
We hosted a  conference on 22nd November 2018, regarding 'Church responses to destitution among people seeking asylum: practical, legal and community considerations'. Photos, videos and information from the event due to follow.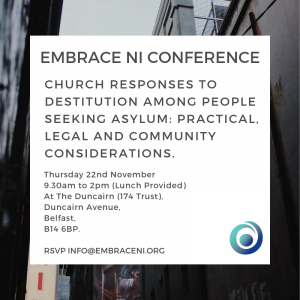 ---
Resource 
We have two brand new resources: 'Helping Churches welcome people from other countries', and 'Refugees in Northern Ireland 2018: some basic facts'
Helping Churches welcome people from other countries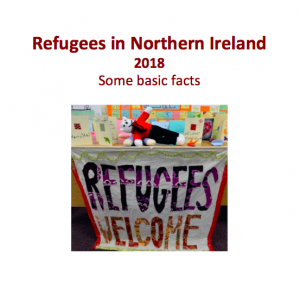 Refugees in Northern Ireland 2018
---
English Classes
Language competence is important in settling and participating in life in N Ireland. There are many opportunities to learn and improve English skills for people who do not speak English as their first language.  A downloadable list of those currently being run in different parts of Northern Ireland is available below.
English Language Classes September 2017
If you know of any other classes which are not listed, please send the details to our office info@embraceni.org.
For EMBRACE resources to support learning English see our toolkit.
---
English proficiency tests and certification 
IELTS
The International English Language Testing System (IELTS) is a recognised English language test for higher education and global migration, designed to assess the language ability of candidates who want to study or work where English is the language of communication. IELTS scores are accepted by over 8,000 organisations worldwide, including universities, employers, immigration authorities and professional bodies.
IELTS providers in Northern Ireland:
SERC Bangor Campus
Castle Park Road, Bangor, Co Down, BT20 4TD
See www.serc.ac.uk/international/Pages/IELTS-Centre.aspx for next test date and details.
SERC Lisburn Campus
Castle Street, Lisburn, County Antrim, BT27 4SU
Contact: Natalie Le Seelleur, IELTS Test Centre Manager, tel: 07761 124692, email: nleseelleur@serc.ac.uk
Queen's University, Belfast
IELTS Administrator, The Language Centre, The McClay Library, 10 College Park, Belfast, BT7 1LP
See www.qub.ac.uk/directorates/InformationServices/LanguageCentre/IELTS/  for details