EMBRACE News 2013
---
November 2013
Workshops at the Salvation Army Family Centre
Working with Refugees in Northern Ireland: The woman from Zimbabwe had fled for her life from that country a year ago. She shared her grief for her friends and colleagues who have been murdered while she was fortunate to escape. She shared the sorrow of knowing that her mother is aging and she can't be there to help and care for her. Will she see her again? The hardship and pain of this young woman's story was tangible to those there listening."Now after they had left, an angel of the Lord appeared to Joseph in a dream and said, 'Get up, take the child and his mother, and flee to Egypt, and remain there until I tell you; for Herod is about to search for the child, to destroy him.'" (Matthew 2:13)
We heard Mazvita's* story at the EMBRACE NI Workshops on Refugee Issues at the Salvation Army Family Centre in North Belfast recently. It was a great opportunity to meet with staff and learn about their work.
In recent years the population in Northern Ireland has changed. Now there are thousands of people from different countries who call this place home. All have different reasons for migrating here (e.g. to study, to find work or a better life). However, a small group of people had to flee their own country, because of persecution or a threat to their lives – they came to Northern Ireland to find a safe place, to seek asylum here.
The UK is home to fewer than 2% of the total number of refugees in the world. The UK Border Agency recorded only 140 applications in Northern Ireland in 2012. The top countries of origin of asylum applicants in N Ireland in 2012 were as follows: 48 Somalia, 30 China, 13 Sudan, 9 Zimbabwe, 8 Syria, 6 Iran, 5 Nigeria, 4 India, 3 Kuwait, 2 Palestine, 2 Sri Lanka.
People seeking asylum face many challenges such as coping with trauma, separation from family members, ill health, anxiety about the outcome of the application, limited income, problems with language, bewilderment at getting to know how a different culture works, loneliness and isolation and the difficulty of making new friends. Those who find themselves in Salvation Army accommodation can benefit if the staff understand the experiences they have had and what it feels like to be a refugee.
*the name is changed
---
August 2013
'Beyond the myths' – EMBRACE workshops for churches: Embracing issues of asylum and migration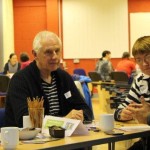 The terms, 'a migrant, an asylum seeker, and refugees have such negative meanings', stated one of the participants at the EMBRACE workshops for churches. Another participant observed: 'If someone from here (NI) migrates to Australia or New Zealand, we don't see him or her as a migrant'.On the 20th of August at Edgehill College in Belfast, EMBRACE NI held a set of workshops entitled, 'Beyond the Myths'. They focused on addressing myths relating to migration and people seeking asylum. Participants had opportunities to hear personal stories and learn some facts about migration and the asylum process. The workshops allowed for small group discussion in an informal café style setting.Participants met a gentleman who came to Northern Ireland from Chile. He came to Belfast to study. His experience as an immigrant has for the most part been very positive. Of course there were little things to overcome, like no one passing the football to him, but he feels that some of that is to be expected. He believes it is incumbent on the immigrant to earn the trust of the community. "Everyone is a product of immigration," he says, citing his Catalonian ancestry as well as his wife's German heritage. "Immigration is a two way thing".Nowadays around 214 million people in the world live outside their country of birth – one in 33. And over 80 million people in the world have Irish blood. People have moved from their home countries for centuries, for all sorts of reasons, including the demand for workers in countries like the UK. Migrant numbers have risen rapidly in the last decade.A person seeking asylum from Zimbabwe has had a much more difficult journey. She shared her story of having lost her entire family to the turmoil of her home country. She had to flee. In 2010 she came to NI seeking asylum. The process, as is often the case, took many months during which she received around £35 per week to live on. She was not allowed to work during this time. Eventually, she was denied refugee status and her financial support was cut off. She found herself on the street with no recourse to public funds and she lost all hope. Fortunately, her circumstances have improved and she has been volunteering at the Belfast Friendship Club. She says "If you're down – get busy". She is still not allowed to work, and her status in NI remains unresolved.The Bible encourages us to welcome strangers in our midst – not always an easy task in the present economic and political climate. There are many myths and negative attitudes around migration and asylum due in large part to misinformation but also to a simple failure to identify with migrants as fellow humans.According to the 2011 Census 95.49% of the people living in Northern Ireland were born in the UK or the Republic of Ireland. Of the remaining 4.51%, 45,407 were born elsewhere in the European Union leaving only 36,046 people from other countries.
---
May 2013                      
10 Years On: EMBRACE Spring Meeting & AGM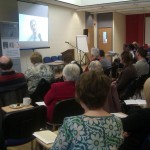 The 2013 EMBRACE Spring Meeting and AGM was held on Thursday, May 16th in Edgehill Theological College,  Belfast. This year marks the 10 year anniversary of the launch of EMBRACE. In recognition of reaching this point, the Spring Meeting provided an overview of migration over the past 10 years and also considered what the possible future developments may be. The keynote address was given by Dr Duncan Morrow – see the video below.
Jenna Liechty Martin and Peter Martin who have been volunteers with EMBRACE for almost three years presented a reflection on what they had learned being both host and guest in Northern Ireland during their time here. Read the talk here.