EMBRACE News 2012
November 2012 And You Welcomed Me Workshops for Churches held in Carrickfergus and Newtownabbey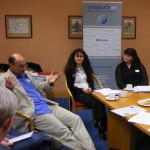 On the 15th and 26th of November EMBRACE workshops were held in Carrickfergus and Newtownabbey. They were organised by Lynda Kennedy, R/EID Project Officer from Carrickfergus, Antrim, Newtownabbey Peace III Partnership. Topics discussed at the workshops included:
– Who's who? Who's here?
– Start where you are / Lifting language barriers
– Lost in Translation – Exploring cultural differences
– 'Hot Potatoes' – Helping a stranger in need
Throughout the evening participants had the opportunity to join in conversation around the topics listed above in an informal, café-dialogue manner. By the end of the workshops, participants conveyed that they felt better informed and more equipped to respond to the issues in their own communities.
The following reflections were shared by some who attended the workshops. They noted that most valuable aspects of the workshop were:
– Information on schemes that are in place, what help is available and what opportunities there are to assist.
– Improving my knowledge and giving me a better understanding of the issues; hopefully as a church we will follow up what we've learned tonight.
– Discussing ways in which to engage with other nationalities.
– Finding out more information in regards to situation in NI
– Hearing about Polish culture
– I was not aware of some of the issues raised such as migrant/refugee status.
– Having time to think through these issues
Workshops are a great opportunity to share, learn and exchange our knowledge and experience. If you would like a similar EMBRACE event to be held in your town/city, please contact Aneta at aneta@embraceni.org
September 2012 Migration Awareness Training in Armagh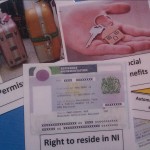 On the 22nd of September EMBRACE delivered Migration Awareness Training to a group of volunteers in a local church in Armagh. The church hosts English classes for beginners. Volunteers provide a warm welcome to people who are new to the Armagh area. The training was very well received; participants gave encouraging feedback:
– The interaction was great + made information more easily remembered. Very encouraging.
– Just being made more aware of the whole issue of migration
– Having time to consider more issues than just language
– Gave me an understanding of the position migrants find themselves in
– Structured approach to discussing migrants. This is the start of a process
– Clarification of migrants rights and entitlements
– Encouraged to see we are actually doing most things properly. Also gained further useful information.
– Better understanding of the rights and entitlements
The training is an interactive session which explores inward and outward migration and the rights of migrant workers in N Ireland. It aims to dispel myths and provide practical information on issues relating to migration. If you would like to host Migration Awareness Training at your church / group, please contact Aneta at aneta@embraceni.com
February 2012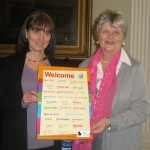 On 24th February 2012 EMBRACE launched a multilingual welcome poster at Belfast City Hall. EMBRACE Chairperson, Denise Wright and Councillor Marie Hendron (pictured with the poster) spoke of the value of communicating welcome through materials such as the poster. A Press Release with details of the event can be viewed here. Some supporting materials were also prepared and available at the event including a booklet with phrases to assist in communicating welcome across language differences. The poster and other materials are available from our office and at all EMBRACE events.